Ontario's forests.
Our responsibility.
Caring for Ontario's forests since 1957.
The Ontario Professional Foresters Association (OPFA) is committed to actively contributing to sustainable forest management by assuring the highest professional standards of practice in forestry. OPFA carries out this mandate by: Advocating the highest standards of practice; Establishing and enforcing high standards of professionalism among members; Promoting competency and continuing education among members; and enhancing public awareness about professional forestry.
Learn More
News & Events
News & Events
OPFA Shadow a Forester Program
The Professional Networking Task Team is working hard to develop the Shadow a Forester program, and is looking for volunteers who can provide virtual or in person job shadowing opportunities.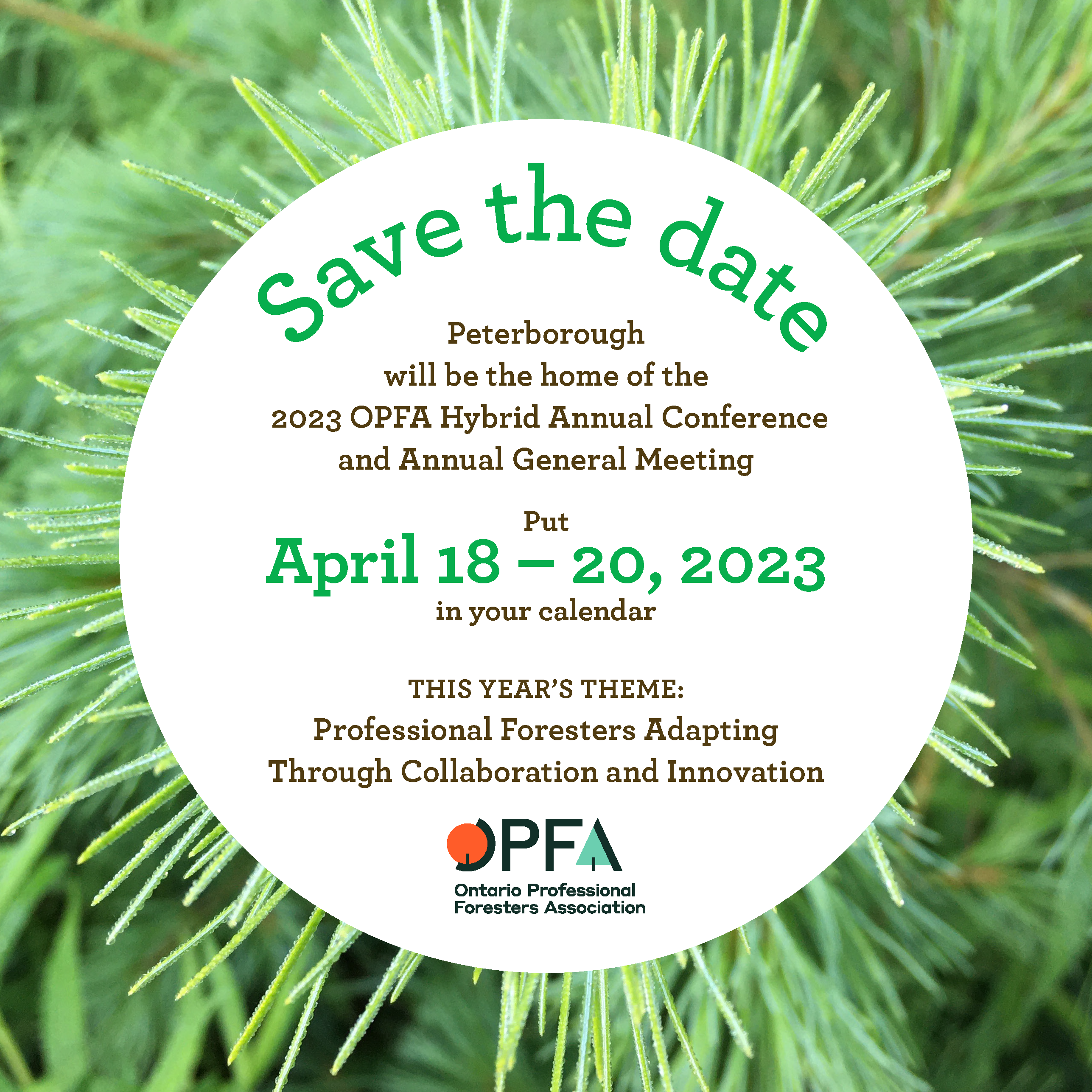 News & Events
2023 Annual Conference and AGM
Apr 18-19, 2023 // Peterborough, ON
Save the date!
The 2023 Annual Conference and AGM will be held on April 18th to 20th in Peterborough, ON. This will be the OPFA's first hybrid conference, with both in-person and virtual attendance options.
The theme of the conference is: Professional Foresters Adapting Through Collaboration and Innovation
Stay tuned for more information!
News & Events
COVID-19 update
Due to the current situation with COVID-19, our physical OPFA office is closed.
However our staff are working from home, and OPFA Members and the public can continue to contact us using phone and e-mail.
Due to our virtual office system, we are able to continue to serve the public without any interruption and there are no additional changes in OPFA services to Members or the public.
What Foresters Do
Registered Professional Foresters (R.P.F.s) are responsible for serving the public interest by sustainably managing forests. R.P.F.s form part of the professional forestry team responsible for planning and approving all activities related to forest management. They enable landowners to make decisions such as when, where and how to access, harvest and reforest areas. They also ensure the protection of forest values including fish, wildlife, soil, carbon and water. They help protect human infrastructure such as utility corridors and care for and plan urban forests.
Practicing Forestry
OPFA has over 900 members of which approximately 600 are licensed to practice in Ontario today. Today's foresters pursue careers to ensure a healthy future for both people and the environment. Careers range from practical day to day management of our forests to conducting cutting-edge scientific research in a variety of forestry related disciplines. Traditional forestry careers have included forest management to meet multiple objectives such as protecting biodiversity and producing wood products. Today professional foresters work in urban forests, private woodlots and Crown land.
Become a Registered Professional Forester Today
OPFA is dedicated to regulating its members and ensuring the highest standards in the practice of professional forestry, and in advancing the practice and awareness of the profession  for both public and privately owned lands in the province of Ontario.
Membership in OPFA is open to anyone who has or is seeking a career in the forestry profession, during or after completion of a Bachelor of Science in Forestry from an accredited  Canadian University or has equivalent academic qualifications.
Find Out How
Find a Professional Forester
Search our member directory by name, location, or services provided.
Get in Touch
Mailing Address
Ontario Professional Foresters Association
5 Wesleyan St, #201
Georgetown, ON
L7G 2E2
Phone

1-905-877-3679

Fax

1-905-877-6766

Email

opfa@opfa.ca
Get In Touch